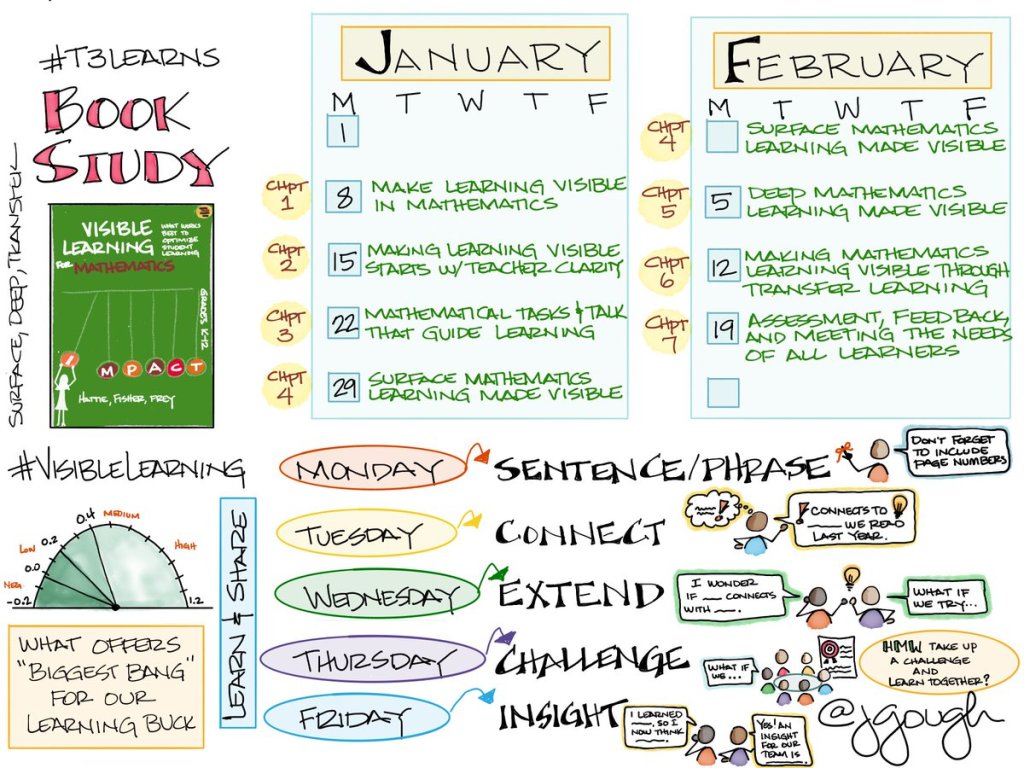 #T3Learns Slow-Chat Book Study:
Visible Learning for Mathematics
What Works Best to Optimize Student Learning

by John Hattie,  Douglas Fisher, and Nancy Frey
with Linda M. Gojak, Sara Delano Moore, and William Mellman
Again this year we want to kick off the new year with a book study through the T3Learns community. We are excited to select the book "Visible Learning for Mathematics" An excellent opportunity to discuss "what works best to optimize student learning".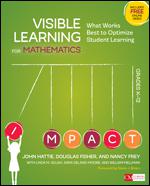 T3Learns instructors who have read the book have commented
"Visible Learning for Mathematics helps you understand the impact of your teaching strategies on student learning. As someone who always valued discussion based classrooms, the exploration of high quality tasks, and understanding student thinking, this book had a huge impact on my thoughts about teaching. As teachers, we must purposefully select instructional strategies that will impact student learning at each stage of the learning progression. As you progress through reading this book you will learning about how particular instructional strategies help develop surface learning, deep learning and transfer of learning."
– Dan Ilaria – Associate Professor, West Chester University – dIlaria@wcupa.edu
"Chapter 5, Deep Mathematics Learning Made Visible, had actionable impact on our team.  As we select tasks, we check to make sure that we are using our common understanding of deep learning.  Deep learning focuses on recognizing relationships among ideas.  During deep learning, students engage more actively and deliberately with information in order to discover and understand the underlying mathematical structure. (Hattie, 136 pag.)  We intentionally anticipate ways learners might tackle a task and make sure that we can connect multiple representations.  We design learning episodes that plan time for learners to grapple with the task." 
– Jill Gough – Director of Teaching and Learning, Trinity School – @jgough
Many who have not read the book yet are excited to join in with us, so whether you have read the book previously or are cracking it open for the first time we hope you will join us – all are welcome!
Slow Chat Book Study
Beginning January 8, we will cover a chapter each week, ending the week of February 19. We will use Twitter as the place to share our thoughts with each other, using the hashtag #T3Learns. Join in anytime and search using #T3Learns to catch up on the comments of others.
With a slow chat book study you are not required to be online at any set time. Instead, share and respond to others' thoughts as you can. Great conversations will unfold – just at a slower pace.
When you have more to say than 280 characters, we encourage you to link to blog posts, pictures, or other documents. There is no need to sign up for the study – just use your Twitter account and the hashtag #T3Learns when you post your comments.
Don't forget to search for others' comments using the hashtag #T3Learns.
Need to set up a Twitter account? Start here.
If you need help once we start, contact us (see below).
Book Study Schedule
We have established the following schedule and daily prompts to help with sharing and discussion. This will allow us to wrap up in late February.
| | | |
| --- | --- | --- |
| Date | Ch | Topic |
| January 8, 2018 |  1 | Make Learning Visible in Mathematics |
| January 15, 2018 |  2 | Making Learning Visible Starts with Teacher Clarity |
| January 22, 2018 |  3 | Mathematical Tasks and Talk that Guide Learning |
| January 29, 2018 |  4 | Surface Mathematics Learning Made Visible |
| February 5, 2018 |  5 | Deep Mathematics Learning Made Visible |
| February 12, 2018 |  6 | Making Mathematics Learning Visible Through Transfer Learning |
| February 19, 2018 |  7 | Assessment, Feedback, and Meeting the Needs of All Learners |
Daily Prompts
We encourage you to post your responses to these prompts each day.
Monday
Sentence / Phrase

Share a quote that is meaningful, engaging, or thought provoking to you.

Tuesday
Connect

How do these ideas connect to what you already know?

Wednesday
Extend

What new ideas extend or push your thinking in a new direction?

Thursday
Challenge

What now is a challenge for you? What will you try?

Friday
Insight

After reading the chapter, I used to think, now I …
Contact Information
The lead moderators will be Kim Thomas;
Please contact her or myself (kspry@ti.com) if you have any questions.
-Kevin Spry
Please follow and like us: